It seems only fitting, during June as pollinator month, to celebrate food. Food, glorious food. I do love food. Let me qualify that. I love good food.
Sean Brock is a rockstar in the world of food and cheffery. His cuisine is found in Charleston, North Carolina at McCrady's and Husk. My husband Kenneth is a Georgia peach, so this post honors his stomping grounds and the fabulous food that comes from Southern soils and imaginations. We constantly plot our getaway to Charleston when we  visit family in Atlanta, Georgia. "Next time…" we always say.  We haven't made it yet. But after watching PBS "The Mind of a Chef" with Sean Brock, I think we will do it next time.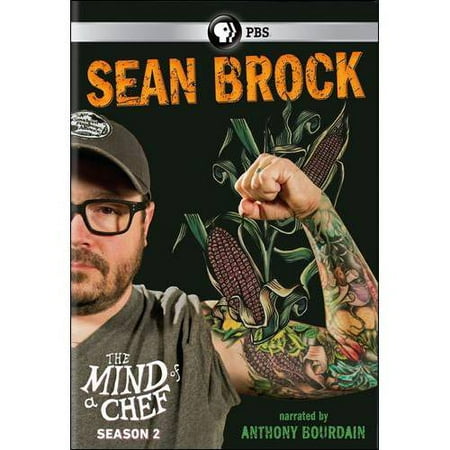 Jimmy Red Corn, Crispy Pig ears, Beaten Biscuits and Sack sausage are on the menu. Now, I can't say that this is what lures me in, but Brock is known for taking Southern Cooking to new heights.
Raised in the Appalachian mountains, a coal-field town of rural Virginia, he grew up  tending seeds, cooking food and preserving stuff in his grandmother's kitchen. Since there were no restaurants or stoplights, everyone ate what came out of their garden or cellar. Seeing food in it's true form left an impression on Brock. He left to become a chef, settling eventually in Charleston. Purchasing a 2.5 acre farm, he began to dabble in raising near extinct crops from a pre-Civil war era and exploring ante-bellum cuisine. Saving seeds and heirloom foods became a passion—including James Island Red Corn (aka "Jimmy Red"), from which he makes grits, Flint Corn, Benne Seed, Rice Peas, Sea Island Red Peas, and several varieties of Farro. Caring deeply about how farm animals are treated, Brock also raises his own herd of pigs, overseeing and ensuring ethical treatment of his heritage breeds. (http://huskrestaurant.com/sean-brock-2/)
Sean Brock is perhaps the best-known spokesperson for both expanding and preserving the integrity of traditional Southern food ways. His cuisine shines a spotlight on the untold varieties of rice, beans and grains which once made America the envy of the world. Brock's obsessive and ever-growing collection of seeds and recipes, along with countless hours of research, help to ensure that these long-forgotten heritage varieties are resurrected. ("Mind of a Chef", exec. producer Anthony Bourdain, PBS series, season 2, 2013)
But don't take my word for it. Check it out here.
Who knows, you might even beat Kenneth and me to it.
Thank you Sean Brock, for bringing integrity back into our food again, and honoring the pollinators and eco-systems that make it possible to eat well.
June is Pollinator month. Bee part of our annual Think Like A Bee swarmfunding campaign. In honor of all good food and the pollinators that make it possible, help  fund our ongoing bee advocacy and education work this coming year. Go to this page and click on the DONATE button.   You may also send any tax deductible donations made out to PES (our fiscal sponsor) c/o Think Like A Bee, 410 Morningside Dr. SE, Albuquerque, NM 87108.