Winter Solstice is upon us. An earthly turning.
Daylight melts into the darkest night of the year…even as humans kindle their artificial lights in this "Season of lights".
I have many reflections about this magnificent, unequaled, intelligent planet of ours as the year comes to an end.
My thoughts come on the heels of COP24 in Katowice, Poland. Otherwise known as the Conference of Parties, this is an effort by Governments and nations to address climate change. The first one was 24 years ago in Berlin Germany. It came on the heels of the 1989 Intergovernmental Panel on Climate Change. The scientific community reported that global warming was due to increased carbon emissions. It was a manmade event.
Here we are 24 years later. Are we closer to a carbon neutral future? Can we even begin to imagine the catastrophic tipping point of rising temperatures in our carefully balanced biosphere?
There have been luminous individuals in these 24 years that humans have been at it—even as the rich and powerful nations desperately avoid responsibility in order to save their "lifestyles", while the poor and drowning nations ring the alarm.
Prophets have arisen in their hometowns.
This year it was a young 15 year old Swedish girl. A prophetess. Greta Thunberg is a serious student of climate change. She has lived through a depression in her short life as she came to understand the science and the alarming apocalypse humans are bringing upon this beautiful and precious blue-green planet and all inhabitants. Our home. Her grief about this human driven 6th Great Extinction of Species has made her a tireless advocate.
This past weekend I watched an interview with the 1968 Apollo 8 astronaut crew called Earth Rise.
A photo they took has become one of the most reproduced photo ever.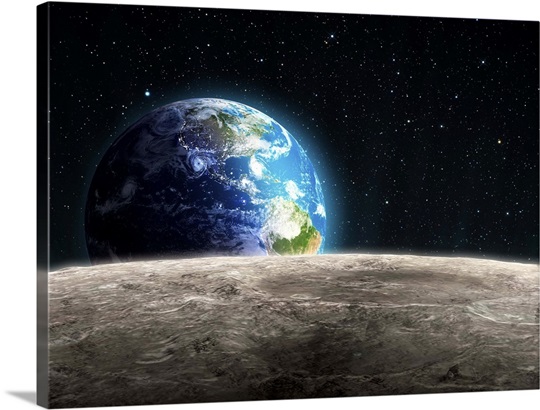 The astronaut's voices were thick with emotion for their home as they saw the brilliant blue-green and white marble rising from deep in the inky black void of outer space. Compared to the cold grey starkness of the Moon's surface, our planet drew their eyes over and over.
The astronauts knew they were being shot into space by NASA to study the moon, but over and over, they photographed planet Earth. They wondered aloud why we weren't more fascinated by our own biosphere than the Moon—the only one we know that can support life in our universe.
With a newfound love of their "home", the astronauts conveyed with hushed reverence how this view of Earth from the moon changed them. It was akin to a "religious" experience.
On this Winter Solstice in the northern hemisphere, December 21 at 5:23pm EST, as the bees hang heavy in the pitch blackness of their hives, exuding infrared heat, thousands upon thousands of vibrating bodies trying to survive til Spring….
Go into the darkness. Sit with all the creatures who know that darkness also has a heartbeat. Let the comforting blackness and velveteen inky depths of that dark night of Solstice draw you deeply into her womb.
To go in the dark with a light is to know the light.
To know the dark, go dark. Go without sight,
and find that the dark, too, blooms and sings,
and is traveled by dark feet and dark wings.
—Wendell Berry
Then, kindle a flame as though to illumine the earth rising.
Pray for the courage and the wisdom to act in this new year with the young ones, the wild ones, the creaturely ones who are leading us to a new earth rising.
We can not reproduce this planet.
Think Like A Bee is incorporated with the IRS as a 501-C(3), Federal Tax id #81-0856887. All financial gifts are tax exempt and gratefully accepted by PayPal donations or by check to: 410 Morningside Dr. SE, Albuquerque, NM 87108