These days, to stay sane in these times of spiking COVID 19, I pull out happy memories of travel. In May 2019, Kenneth and I made a pilgrimage to our holy honeymoon grounds in southeastern Utah— Red rocks country.
Bluff, Utah is home to a year round population of about 320. There's the locals, fiercely committed to this land. Then there's a smattering of river guides, archeologists, anthropologists, artists and students who scrabble out a living on the edge of Navajo country.
In Bluff we stayed at the Recapture lodge, renown as a hospitality center for the stories of legendary western writer, Tony Hillerman.
We visited Comb Ridge Eat and Drink restaurant. Our favorite fare. We visited Liza at Calf Canyon store, filled with beautiful Zuni and Navajo jewelry, fetishes and art. Liza was a favorite character in Bluff, and we could always get the low down on recent developments between conservationists and the fossil fuel industry, hellbent on acquiring as much land as possible. Our admiration for Liza was deep. She was a can-do woman, sturdy, cheerful, sun tanned and a lifelong voice for the land and waters. Her deceased husband, James Ostler, an anthropologist with the fabled Zuni fetish makers, left her the business and she was now taking care of their son with special needs, full-time. Her gourmet restaurant had long ago closed.
This year there was a new kid on the block. Bears Ears Visitor Center. An interpretive and information center for this sacred place of the Indigenous people. It told the story of a national land monument carved to smithereens by the trump administration, then served on a platter to oil and gas interests.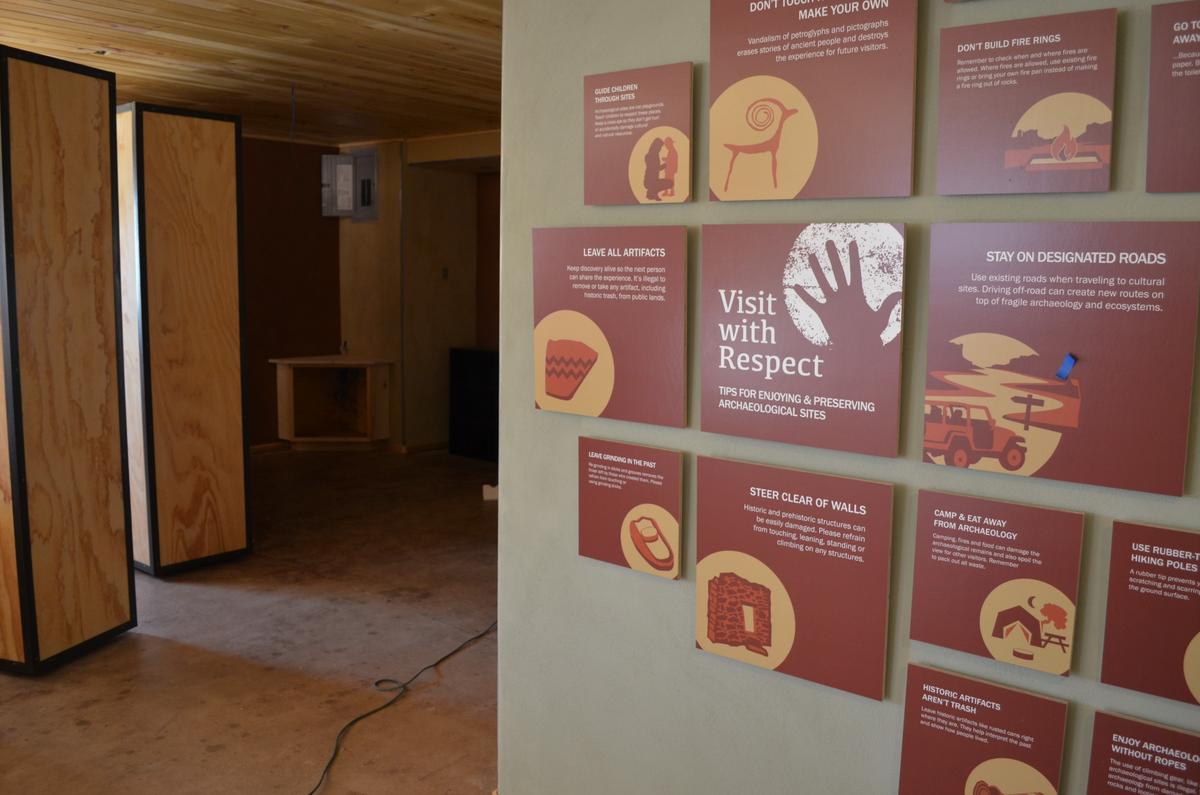 #visitwithrespect is the hashtag. My t-shirt and a bumper sticker remind me of this very special place, and to keep the faith for a return of this land.
Respect.
Seems to be at the bottom of a lot of problems in our country today. Or perhaps I should say… the lack of.
Those who refuse to wear a mask as ICU's are overflowing and medical workers are dying from COVID. Those who brutalize brown and black people. Those who drill and destroy sacred indigenous ancestral lands for a profit. Those who believe their religious belief and skin color is supreme.
Last week, I learned a hard lesson with my bees. Again. I waited too long to harvest honey. With the intense temperatures, some of the honeycomb had collapsed in the hive. I had neglected them. Now, I was raiding their stores. In my usual manner, I did not don gloves before I put my hands in the hive. I know my bees. I rarely get stung. But as the collapsed honeycomb split and spilled open during removal, the bees began to drown. Frantic to protect their community…let's just say, I sustained damages.
Because the distance between a bee's stinger and my hands in the hive is so short, I usually am very respectful. But this time I failed them. They got my attention.
#respect. It's about the other.